Gear Advice: Backpacking Cookware for Pohnpei
This is a popular model among ultra-light trekkers. It holds 0.85 L (0.9 qt) and has a lid and folding handles.
PROS: It's light — just 4.2 oz (119 g) — very durable, and not too pricey (about $60.00).
CONS: After heating, the handles are too hot to pick up bare-handed. This pot has a reputation for being hard to clean (some foods tend to stick). It's too small if you're cooking for two.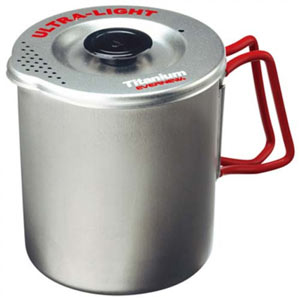 This is a 1 L (1 qt) pot with folding insulated handles and lid.
PROS: It's even lighter than the MSR Titan Kettle at 4.1 oz (116 g). The insulation on the handles makes it possible to grip them without protection. It has a nice strainer feature on the lid for pouring off excess water. You can get it for cheaper than the Titan, too, at about $45.00.
CONS: It's not quite as durable as the MSR Titan. Like the Titan, it's a small pot that isn't practical when cooking for others.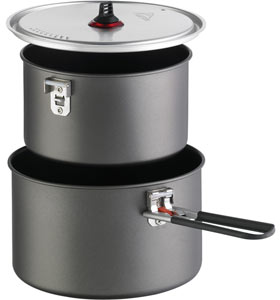 If you're cooking for two or more, the MSR Base 2 Set is an option. It includes 1.5 L (1.6 qt) and 2.5 L (2.6 qt) pots that nest inside each other, a lid, and a detachable pot-holder.
PROS: For what's included, the weight isn't too bad — about 1 lb (481 g) for everything. The coating on the pots prevents sticking of food, making cleaning easier. The detachable handle doesn't get hot the way an attached handle does.
CONS: Aluminum isn't as light as titanium and it's also less durable — the pots tend to get bent out of shape. They also scratch easily; the coating doesn't stand-up over the long-term. It's way too heavy if you're cooking just for yourself.
OUR RECOMMENDATION: If you're eating on your own, the Evernew Titanium Pasta Pot narrowly beats out the MSR Titan. If you're cooking for a small group, the MSR Base 2 Set is the best choice.
Adventures >> Gear Recommendations >> Cookware