Dry-Bags
For ages backpackers and other outdoor adventurers have struggled to keep the contents of their backpacks dry when out in the elements. In some environments, where rain is a rarity, simply having a waterproof nylon bag-cover was enough. But in places where wet was the norm, bag-covers just didn't cut it. For one thing, no bag-cover could ever seamlessly envelope the entire backpack; the area where the straps are was always uncovered, allowing rain to drip down the hiker's back and eventually soak into the bag. Furthermore, the nylon covers were thin and relatively fragile. When pushing through trees or brush, they'd snag and tear. Some people resorted to lining the inside of their backpacks with garbage bags, which kept their stuff dry, but allowed the exterior of the bag to be soaked.
Eventually someone — probably a paddler — decided that what they needed was an air-tight / water-tight bag so secure it would even float if dropped into water. Enter the roll-top dry-bag.
Basic PVC Roll-Top Dry-Bags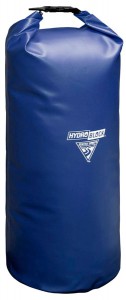 Roll-top dry-bags work in the following way. There's one opening at the top. Users fold the excess material at the opening over itself repeatedly and then use a set of plastic buckles to tightly secure it, trapping a small amount of air within the bag. Once clipped, the bag is fully-waterproofed and — presuming it has enough air trapped inside and isn't too heavy — will float. The most common bags are made of PVC and consist of seamless cylinder with a bottom welded on, and in some models, also taped or glued.
PROS: Unless there's some sort of manufacturing defect, these bags really do keep their contents dry, even when completely submerged, and that's really the whole point. The heavy, durable PVC is rip and tear-proof and stands up to rough treatment just fine (I have one that I've been using for 19 years). The bags are excellent for use in boats, kayaks, canoes, etc. See-through styles are available, which allow you to figure out where something you need is before you dig around in the bag.
CONS: It is possible to puncture PVC bags with sharp objects. They're heavy when compared to nylon and other typical bag materials. Because the PVC is quite thick, they don't compress well when empty and take up a lot of space. The roll-top style makes them pretty inconvenient if you're going to be removing and re-stowing things in your bag regularly (such as a camera). Kayakers will be forced to stop paddling completely and use both hands to open and close the bag properly — which may be impossible if there's rough water or strong current. The bag interiors have no built-in padding, so something like a camera or lens has to be wrapped or otherwise cushioned in some way. Bags have no interior divisions or pockets, so finding one object is difficult without dumping everything out.
THE VERDICT: PVC dry-bags suffer from the same inconveniences as all roll-top bags, but they still perform very well when it comes to doing what they are designed to do — keeping your stuff dry. Good brands include Overboard, Seattle Sports, Cascade Designs SealLine, and Sea to Summit.
Basic Nylon Roll-Top Dry-Bags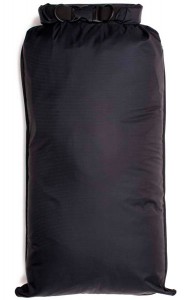 Non-permeable nylon bags with the same design as the PVC bags are also available.
PROS: They're super light and compress to almost nothing when empty.
CONS: The thin nylon is not very durable; it can snag and rip or tear and is far more prone to punctures than PVC. Seams are generally taped and glued, which theoretically should make them leak-proof, but sometimes they fail anyway. The nylon provides even less protection than the PVC for the contents of your bag. They have all the same inconveniences as any other roll-top bag: they take care to close up properly and have no inside divisions or pockets.
THE VERDICT: Nylon dry-bags really work best packed inside a conventional backpack or mesh dive bag. Using multiple nylon bags inside a backpack is one way to keep your stuff organized and dry at the same time. They're too fragile to perform well on their own, however. Good brands include Overboard, Seattle Sports, Cascade Designs SealLine, and Sea to Summit.
OUR RECOMMENDATION: Despite their many inconveniences, roll-top PVC dry-bags continue to be the most reliable and durable option for adventures on the water.
Roll-Top Dry-Packs
The dry-backpack developed from the simpler dry-bag concept — a heavy PVC sack with a single roll-top opening. The pack style incorporates back padding, padded shoulder straps, chest and waist straps, and (depending on the model) an outer pocket or mesh. There aren't many brands that make dry-packs and two stand out — Overboard and Seattle Sports.
Seattle Sports Aquaknot Dry-Pack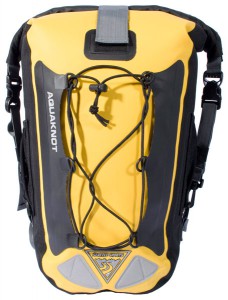 PROS: The Aquaknot performed well on both trekking and paddling excursions on Pohnpei. It never leaked. Though not as heavily padded as the Overboard bags, the pack is comfortable enough on the body. The model comes in two capacities — 22 and 29 liters. It has one mesh side-pocket on the outside for a small bottle or other object. There are two clipping options. The chest strap and waist belt help distribute weight across the body.
CONS: The bungee area is useless; it would have been better with a rear pocket instead. There are no interior pockets or other divisions. Access is only through the roll-top.
THE VERDICT: This is a good, solid, dependable bag. Though slightly smaller than the Overboard models, it measures up.
Overboard Dry Backpack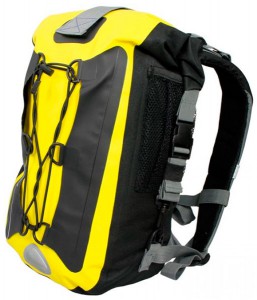 PROS: When tested on Pohnpei, the bag stood up to abuse and never leaked. The padded shoulder straps, back, and lumbar support make this bag pretty comfortable to wear, even when it's heavy. The chest and waist straps help keep the weight positioned properly on your body. With three different capacities going up to 30 liters, there should be plenty of room for gear. The single interior pocket is great for small stuff you need to find quickly like a flashlight, keys, or box of matches. There are two options for clipping the top closed and a nice top handle for picking up the bag. There's an elasticized mesh pocket on the side, which can handle small bottles or other objects.
CONS: There are no interior divisions and no interior padding to protect gear. Contents can only be accessed through the roll-top. The bag is heavier than a conventional backpack. The bungees on the back are mostly useless; they stretch out over time and get snagged on stuff. The Velcro strap on the top doesn't really do anything except get snagged on low branches and brush.
THE VERDICT: Though it lacks a few useful features, this pack performs well and has a good design.
Overboard ProSport Dry Backpack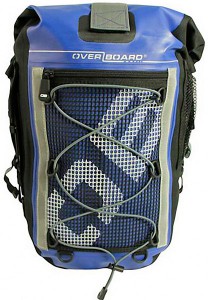 PROS: Like the other packs we've reviewed, this model has good padding on the shoulder straps and back, a comparable chest strap and waist belt, and a top carry handle. It also has a zippered interior pocket. The capacity is 30 liters — plenty big enough for all the gear you need on a short trek. It never leaked when we tested it in a wide range of conditions on Pohnpei. One thing it has that the other bags don't have is a useful zippered mesh pocket on the back. And for some reason, it's slightly cheaper than the other Overboard bag above.
CONS: Other than the one pocket, there are no interior divisions. The bag has no padding. It's heavier than a conventional backpack. The contents can be accessed only through the roll-top. The bungees aren't really useful for anything.
THE VERDICT: This is a very good dry backpack with a few small advantages over the Overboard Dry Backpack and Seattle Sports Aquaknot.
OUR RECOMMENDATION: The two Overboard bags are nearly the same, but the ProSport narrowly wins out due to a couple of small features and slightly cheaper price. The Seattle Sports Aquaknot is also excellent if you're looking for a smaller bag.
Adventures >> Gear Recommendations >> Dry-Bags & Dry Backpacks