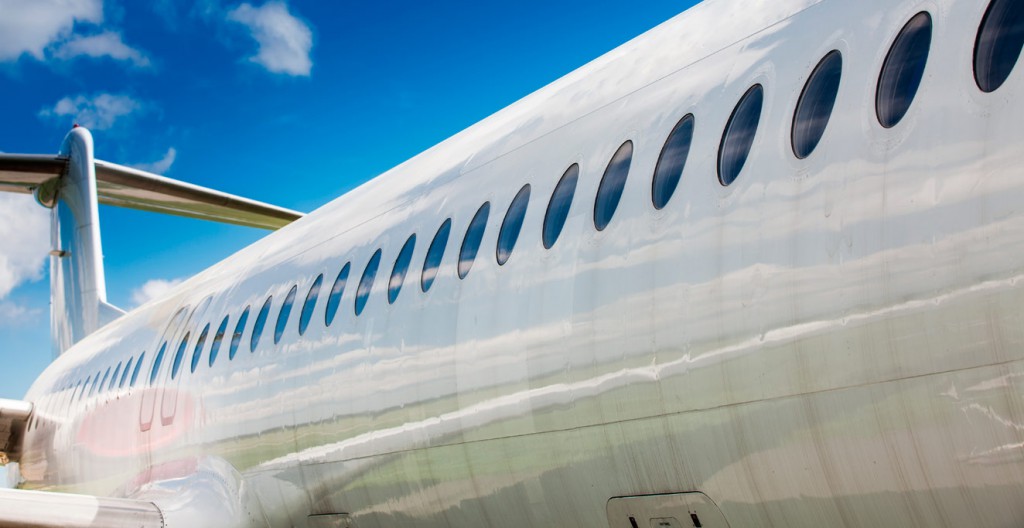 Getting There
By Air
United Airlines
In the 1980s, Continental Airlines entered into an agreement with the FSM that made it extremely difficult or impossible for any other air carrier to service the country. For a brief time, Air Nauru made flights to Pohnpei from some of the island nations in the area, but the airline was repossessed by a U.S. bank when Nauru's economy collapsed in 2005. Over the years, the Continental Micronesia island-hopper route from Honolulu to Guam became known for its exorbitant pricing. In 2012, United Airlines merged with Continental and inherited the latter's monopoly in the FSM. Though the FSM has continued its efforts to attract other carriers and Pohnpei's airport is now equipped to handle direct flights from the U.S. and Asian mainlands, United remains the sole commercial air carrier in the FSM and rates remain off the charts. The quality of service, unfortunately, does not reflect the pricing. Now the largest airline in the world and with little to lose by alienating a customer-base that has no other option, the company's motto might as well be something that rhymes with "bucket." Delays and cancellations have become a regular thing since United took over (sometimes the pilots will actually overfly an island because of heavy rain — in the tropics!). Don't expect any apologies from the carrier or much sympathy from the residents, who have had to deal with this kind of nonsense for decades — local antipathy for the arrangement is legendary.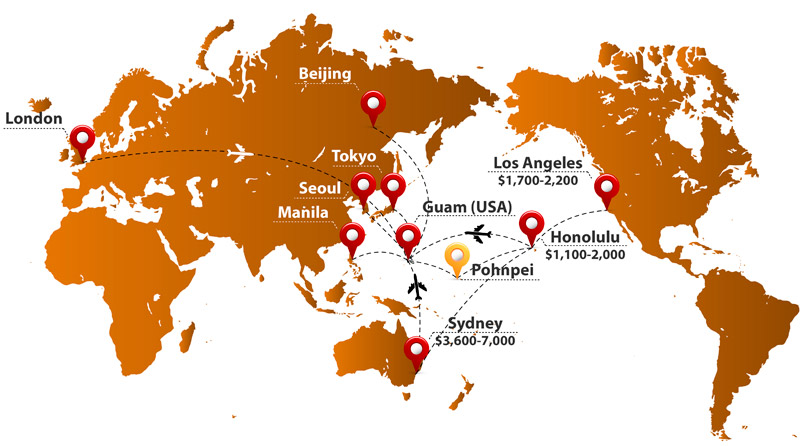 Round-trip Fare Ranges
Pohnpei can be reached by two different routes:
West-Bound Route / Island-Hopper
East-Bound Route / Guam
Baggage Limitations & Fees
United Airlines gives visitors to Micronesia one (1) free piece of check-in baggage, one (1) carry-on bag, and one (1) carry-on personal item. Any additional luggage is subject to an excess baggage fee that varies depending on your country of origin.
By Sea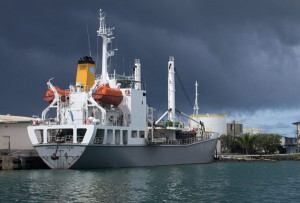 M/V Caroline Voyager
The M/V Caroline Voyager is a medium-sized supply ship that does periodic loops through different parts of the FSM, stopping at islands along the way. The schedule is fairly erratic and break-downs and other issues can result in long delays, but if you can get to Yap and you have time to kill, the ship is without question the cheapest way to visit Pohnpei and other islands in the chain. For information about fares and tickets, contact the FSM Marine Division.
+691.320.2865 / 2381 / 5829
The most current ship schedules are posted on the web site for the FSM Department of Transportation, Communications & Infrastructure.
The Basics >> Getting There