Pohnpei, the Ultimate Adventurer's Paradise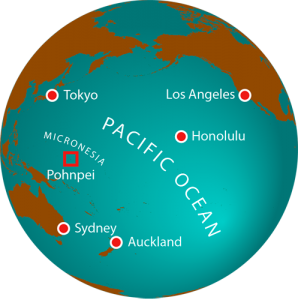 Imagine an island that still retains its wildness — a place of rugged, breathtaking beauty, vibrant traditional culture, unpaved remoteness, and mystery. Imagine a landscape so green that it threatens to burn a hole in your retina. Picture being the only snorkeler on a pristine reef, surfing one of the world's most celebrated waves, diving in a place most divers have never dreamed of, climbing misting mountain peaks, exploring a prehistoric megalithic city, or trekking through lush rainforests. This, in a nutshell, is Pohnpei.
But, Where the Heck is It?
The short answer? 4,828 kilometers (3,000 miles) southwest of Hawaii and 3,700 kilometers (2,300 miles) northeast of Australia. Pohnpei is the largest and highest island in the Federated States of Micronesia (FSM), a far-flung oceanic nation with some 600 islands spread across a vast section of the western Pacific between Hawaii and the U.S. Territory of Guam. The FSM is one of the most culturally diverse areas in the Pacific with more than twenty distinct groups and as many unique languages. The country is divided into four states (from east to west) — Kosrae, Pohnpei, Chuuk, and Yap. The capital of the FSM is located at Palikir on the west side of Pohnpei Island. In addition to the main island, Pohnpei State also includes four inhabited Micronesian atolls, two distant Polynesian outliers, two uninhabited atolls, and a submerged atoll.
They Don't Call It the Garden Isle for Nothing
Roughly 22.5 kilometers (14 miles) in diameter, Pohnpei Island is the peak of a 5 million-year-old extinct shield volcano that has subsided over its lifetime. Some say it bears a resemblance to Bora Bora minus the unchecked development. Others liken it to something out of a Robert Louis Stevenson novel. Both would be correct. The place is rugged and brilliant green with a dense rainforested interior and mountains as high as 780 meters (2,600 feet). With 825 centimeters (325 inches) of rain a year in the interior, Pohnpei ranks as the seventh rainiest location on Earth. All that water adds up to more than 40 watercourses, scores of scenic waterfalls, and some of the largest areas of intact upland rainforest in the Pacific.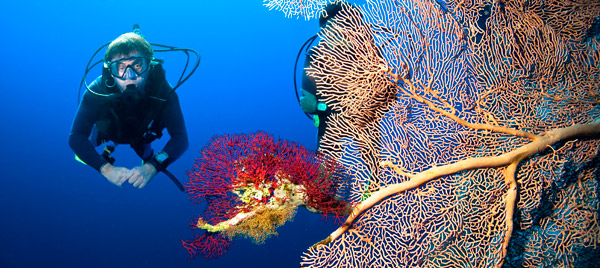 A Marine Wonderland
Pohnpei's coasts are entirely encircled by shadowy mangrove forests that are more than 3 kilometers (2 miles) wide in places and provide a maze of narrow, tunnel-like channels for kayaking, canoeing, or stand-up paddleboarding (SUP) enthusiasts. This environment is a serene domain of birds and other creatures. A half to one and a half kilometers further out, a barrier reef curves around 70% of the island, forming a large, placid lagoon with passages going out into the open ocean — prime spots for surfing, snorkeling, and SCUBA diving. Small volcanic islands are scattered about within the lagoon and coralline islands with sandy beaches perch along the reef itself, calling to campers and beach-bums.
In short, there's a little bit here for everyone . . .