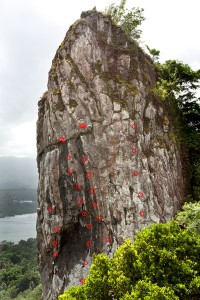 Pohnpei provides world-class sport climbing on two basalt formations on Sokehs Mountain as well as opportunities for traditional climbing in other locations around the island. Pohnpei is currently the only place in the Federated States of Micronesia (FSM) with bolted sport climbs.
A Short History of Climbing on Pohnpei
Pohnpei has always had plenty of interesting rock formations (and a few fantastic ones), but accessibility issues and the ultra-wet climate have deterred exploration. No one began to seriously consider the island's rock-climbing potential until the mid-2000s when avid Pacific Northwest climber Daniel Moor repelled down the face of Sokehs Rock (Paipalap), looking for promising route options. Though the Rock was certainly viable, the sharp pinnacle immediately behind it seemed like a more practical spot to begin. Moor dubbed the formation The Spire, drilled in a top-rope bolt near the summit, and did some exploratory climbing along the prominent crack running up the north face, which he called "Infinity Minus 1 Possibilities." He did not have the time or equipment, however, to do more before he left the island a month later.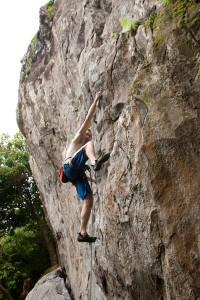 For years the Spire went unclimbed—until Matthew Mann and Jonathan White arrived on the scene. Mann (Aus.), an IT specialist, and White (U.S.), a contract attorney for the FSM Congress, set out with ambitious plans to develop the Spire into a sport climber's dream destination. Over a period of roughly two years, they established four complete routes, setting more than 60 bolts in accordance with strict route-finding etiquette. Exploring the ridge further to the south, Mann and White found another rock wall, named it The Adam's Apple, and bolted two additional routes.
Why Sport Instead of Trad?
First, these two crags aren't particularly suited to trad climbing. Furthermore, sport routes allow climbers to push the envelope, climb harder and faster, and execute complicated moves that would be too risky in a trad situation. Trad is like running a marathon. It's measured and methodical. Sport climbing is like a sprint, bringing things to the most intense physical level possible, allowing the climber to develop technique and learn ultra-difficult moves with an acceptable level of risk involved.
Bringing Gear on the Airplane
Pohnpei has no outdoor shops of any kind. Every bit of technical climbing gear you intend to use on the island, you'll need to bring yourself. United Airlines does not have any specific limitations regarding climbing gear as long as you check everything. Any bag that weighs less than 22.68 kg (50 lbs) and has total linear dimensions (length + width + height) of less than 157.5 cm (62 in) will be treated as regular checked baggage. You'll still have to pay an excess baggage fee, though, as United only gives you one free piece of check-in luggage. The fee depends on your point of origin.
Anything larger or heavier than the specifications above will incur an over-weight / over-sized baggage fee of $200 each way. Maximum weight allowed is 45.3 kg (99.9 lbs). If the flight is extremely full, United has the right to send over-weight baggage on a later flight.
Where to Climb
ACKNOWLEDGMENTS
Our thanks go out to Daniel Moor, Matthew Mann, and Jonathan White for all the expert technical and practical information and for allowing us to share these excellent sites with the world.