Tents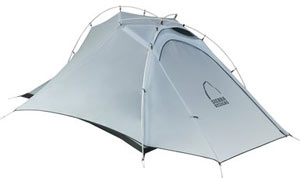 Weekend hikers usually think of tents as the definitive backpacking shelter, but they actually have many drawbacks. One tent model is available for purchase on Pohnpei, but it's so heavy you'd never want to hike anywhere with it much less Pohnpei's rugged mountains and rainforest. Those set on using a tent should bring one from home. Sierra Designs is a good brand.
PROS: Tents are easy to set up on any patch of relatively flat ground and don't require trees. They protect sleepers against wind and blowing rain. They keep the bugs out.
CONS: They're very heavy and bulky. Even the most well-ventilated models don't provide enough airflow to be comfortable in Pohnpei's extremely warm, humid climate, soaking the occupants in sweat and the condensation from their breath. They require a groundsheet as insulation, which is added weight in your pack. The typically nylon rainflies won't be able to stand up to Pohnpei's torrential rains for very long. The poles sometimes break. Finally, good tents are really expensive — $500+ is not unusual.
Tarp Systems
The "big blue tarp" that is widely sold on Pohnpei is terrible for hiking — bulky, very heavy, and difficult to hang without a lot of conveniently located trees and skeins of heavy rope. There are, however, tarps that are well-designed for trekking. The best are made by Mountain Laurel Designs.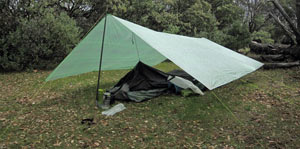 For a single sleeper, the 2.1 x 1.5 x 2.7 meter (7 x 5 x 9 ft) Cuben Fiber Grace is a good choice. It only weighs 180 g (5.9 oz), the ridgeline is bonded and taped, and there are 8 tie-outs. The tarp can be hung as an A-frame with a ridgeline or pitched like a tent with trekking poles as the vertical supports. Cuben Fiber can stand up to a solid night of heavy rain without issue.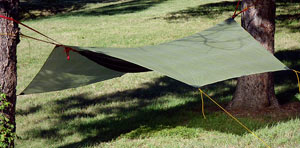 For a pair of sleepers, the Cuben Fiber Grace has a larger 2.6 x 2.1 x 2.8 meter (8.5 x 7 x 9.2 ft) version that weighs 225 g (7.8 oz). Also, a larger, heavier option is the 3.2 x 2.6 meter (10.5 x 8.5 ft) Hammock Hexagon Tarp, which weighs 241 g (8.5 oz). It also has a bonded and taped ridgeline seam, but only 6 tie-outs. Though it is designed to hang above a hammock, it can also be pitched A-frame tent style with trekking poles.
PROS: These tarps are super light and pack small, can handle Pohnpei's regular torrents, and provide plenty of durability. Unlike tents, they allow plenty of airflow, making sleeping more comfortable.
CONS: They're super expensive — $285-300. They take some experience to hang properly and can be frustrating if you don't know what you're doing. If you're pitching tent-style, you'll need trekking poles or something else to use as vertical supports.