Eating & Drinking





Nett Ramen, run by a friendly Japanese-Pohnpeian man and his French wife and located on the far side of Dausokele, takes the top spot for reaching above and beyond the ordinary and making a strong effort to be Pohnpei's first green restaurant (they don't use plastic). The specialty is in the name — ramen — but the key point here is that everything is made from scratch (there's even an open kitchen area so you can watch them make your noodles). There's a long list of ramen varieties — the Curry Ramen and Miso Ramen are especially good. They also have excellent gyoza, yakisoba, and quiche. Crepes, homemade yogurt, and other delicious morning fare is served at breakfast.
7:30AM-2PM, 5-8PM (Mon-Fri); 10AM-8PM (Sun)
+691.320.4967





Arnold's, located next to Blue Nile, is a cozy little restaurant in a cute pre-fab building — the only one of its kind on Pohnpei. Arnold's greatest strength is its menu, which features a number of dishes that are offered nowhere else. They also have the best entree salads on the island — the Grilled Tuna, Cajun Chicken, Black 'n' Bleu, and Grilled Chicken Caesar salads are all excellent and large enough for two ($11-14). Unique sandwich offerings include the Grilled Chicken Caesar sandwich, Turkey sandwich, and Philly Cheesesteak ($7.50-8.50). The Roaring Dragon, a spicy chicken and veggie stir-fry, Thai curry, and a variety of sushi styles are also worth a try. The pizza is mediocre, but you can make up for it with a hot fudge sundae after. Servers are attentive and friendly.
7AM-3PM, 5-9PM (Mon-Sat); 9AM-3PM, 5-9PM (Sun)
+691.320.5078




This sea-side restaurant and bar operates out of a beautiful local-style thatched-roof structure that gets continual breeze from the scenic Dausokele inlet. The cool, airy local-style hut is a big part of Coco Marina's appeal, but the food is good, too, with a number of unique menu items and some yummy, but pricey, entree salads ($14). Highlights include the soft taco appetizer ($3.75), which is big enough for a meal, the king-size burrito (the name isn't an exaggeration), chicken alfredo ($17), and Hawaiian-style poke. The menu also has sandwiches — club, roast beef, ham & swiss, and turkey ($8.50 with chips); chicken quesadillas ($6.50); grilled mahi mahi or tuna ($10); burgers; steak; chicken dishes; and more. Try the homemade tortilla chips & salsa appetizer. The bar in the center of the restaurant and its large-screen TV–usually tuned to ESPN–are popular with expats after dark. Service can be slow, but this is the kind of place where it's worth hanging out for a bit.
10:30AM-11PM (Mon-Sat)
+691.320.5631




Sei wins the prize for best all-you-can-eat buffet. Housed in a beautiful building made from local timber, this restaurant is the place to go if you have a huge appetite. High-grade sashimi is certainly one of the highlights (because you can eat as much as you want), but there's also tempura; fried fish; a slew of sauteed noodle, vegetable and meat dishes; fried bananas; fried chicken; sushi; soup and more.
11AM-2PM (Mon-Sun)
+691.320.4266
Tipping at restaurants and bars, though not mandatory, is encouraged and much appreciated by local waitstaff.


Angie's is the closest thing Pohnpei has to a fast-food chain. The menu includes the typical myocardial infarction favorites — burgers, hot dogs, fries, chili, fried chicken, etc. Think grease, and lots of it.
7:30AM-8PM (Mon-Fri); 7:30AM-8:30PM (Sat); 8AM-8PM (Sun)
+691.320.1480


Cafe Ole is Kolonia's best-kept secret. It's been around for ages, but for some reason, a lot of people aren't familiar with it. Perhaps it's the location — tucked away off the main street next to the defunct Ambros Store. Whatever the case, Cafe Ole is a nice little place to grab breakfast or lunch. There isn't anything that really stands-out on the menu, but they have a huge offering of stolid cafe-style breakfast fare — eggs, omelets, etc. — as well as an assortment of burgers, sandwiches, and chicken, fish, or pork plates ($7-17.00). Cafe Ole was one of the first places on Pohnpei to serve grilled tuna burgers ($5.75). All menu items are served all day.
7AM-6PM (Mon-Sat); 7AM-2PM (Sun)
+691.320.5022


This restaurant is located on the ground floor of Cliff Hotel and has garnered fame locally for three things: pizza, steak, and mangrove crab. They have a full menu typical of other hotel restaurants on Pohnpei, and though Cliff Rainbow is a bit pricier, the quality of the dishes is about the same as everywhere else. The place has nice atmosphere after dark, but unfortunately you may have to wait quite a long time for your meal, and getting the attention of the indifferent wait-staff can be very difficult.
6:30AM-9:30PM (Mon-Sun)
+691.320.5939/2415 | fax: +691.320.5416


There hasn't been a Korean place on Pohnpei since Busan Restaurant closed in the mid-1990s. Gangnam Street promised a lot and played off the hype of Psy's hit song, but the restaurant's grand opening in October 2013 fell flat. As of late 2013, the only true Korean dishes offered in the buffet ($9) were muk (a stiff jelly made from acorn flour and topped with a spicy sauce), japjae (a rather generic noodle dish) and bulgogi (which is supposed to be marinated beef, but was actually pork) — with kimchi as a side, of course. The owner says that kimbap and kalbi are on the way, but it looks like Korean main-stays, such as bibimbap, jiggae, naengmyeon, kalguksu, and the all-hallowed banchan, are probably unlikely to make it to Pohnpei. Considering the island's love of pork, you'd think they would have tried a table-grilled samgyeopsal joint, like the ones so beloved in Korea, instead of another buffet.
7:30-10:30AM, 11:30AM-2PM (Mon-Sat); 10:30AM-2PM (Sun)
+691.320.2121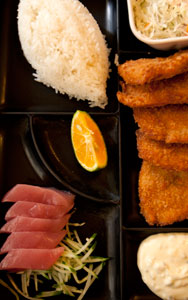 This bustling restaurant on the ground-floor of the Joy Hotel is a Pohnpei main-stay. There's nothing particularly daring about the menu, which consists of the usual run of Pohnpei-style Japanese dishes, including udon, sashimi (best in town), sushi, katsu, and teriyaki chicken, but the service is some of the best on the island and everything is always clean and tidy. The most popular dish by far is the Joy Lunch (called Joy Dinner in the evening) with fried fish, sashimi, miso or seaweed soup, steamed rice, and cabbage salad in a bento box. Free breadfruit and taro chips are available at a self-serve bar.
7AM-3PM, 5-9PM (Mon-Sat); 7AM-2PM, 5-9PM (Sun)
+691.320.2447


This lunch buffet, located opposite PCR, serves the usual run of fried chicken, noodles, fried rice, curry, boiled bananas, and lumpia.
11AM-3PM (Mon-Fri, Sun)
+691.320.1818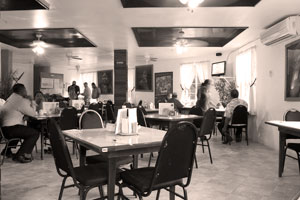 This small coffee shop-style restaurant on the grounds of Yvonne's Hotel is best at breakfast. Highlights include the tuna omelet and chicken adobo. The staff is good about keeping your water and bottomless iced tea glasses full. Don't miss the scrumptious Kia's Fried Ice Cream!
7:30AM-2PM, 5-9PM (Mon-Sun)
+691.320.1248



Moshi Moshi is a tiny, but very popular, lunch stand on Kaselehlie Street between Serehd and Daini. Run by a congenial young Japanese woman, this place has a nice selection of delicious sushi, BBQ chicken, potato-stuffed lumpia, and noodles. New things appear all the time, but you have to get there first, because they frequently sell-out before closing time.
11:30AM-2:30PM (Mon-Fri)
+691.320.1479


Movieland is a small buffet that opened in 2012 as an addition to a DVD "rental" shop of the same name. You'll find a lot of the same foods here as other restaurants around town, but you'll also find a refreshing selection of genuine local foods — including bananas boiled in coconut cream, taro, breadfruit, cassava, and yams. The place is most popular at lunchtime.



The time to eat at PCR is during the rotary lunch buffet. Items on the conveyor include noodle dishes, fried fish, Japanese-style curry, sweet boiled breadfruit in coconut cream, sashimi, sushi, lumpia, and steamed rice. The regular menu is ho-hum and over-priced.
7-9AM, 11:30AM-2PM, 4:30-9PM (Mon-Sun)
+691.320.7845

Orchid, which operates out of Oceanview Hotel, has a few innovative things on its menu, such as the crab and cheese-stuffed tuna, but unfortunately the restaurant also has one of the most apathetic and imperceptive staffs imaginable; no one seems to care if you ever come back. Service moves at a snail's pace.
6AM-10PM (Mon-Sun)
+691.320.7978


Red Snapper is Seabreeze Hotel's restaurant. It's a pretty standard kind of place with a huge menu of the usual dishes found everywhere on Pohnpei. Nothing particularly stands out. Wednesday is buffet day. The place was recently expanded a great deal.
7AM-2PM, 5-9PM (Mon-Sun)
+691.320.2065



Found on the lower floor of 7 Stars Inn, this relatively new restaurant has a few new things to offer in addition to the typical local takes on Japanese, Filipino, and Chinese food. Breakfast is the most interesting meal with tasty eggs benedict and eggplant omelets on the menu (Riverside is also the only restaurant on Pohnpei that serves oatmeal). Lunch and dinner options include a wide variety of sandwiches, burgers, pasta, chicken and beef dishes, and seafood (mostly under $10). Try the Potato Skins appetizer ($4.75).
11AM-2PM, 5-9PM (Mon-Sun)
+691.320.6147
The Basics >> Eating & Drinking