The
kiteboarding
(or
kitesurfing
) sport has been slowly developing on Pohnpei since the island established itself as the "undiscovered" dream destination of the surfing world in the early 2000s. Interest was especially heightened by the
ecstatic reports
of professional kiters
Ben Wilson
and
Joel Beacus
, who made a kiting/surfing expedition to Pohnpei a few years back. In
Kitesurf Magazine
, Wilson was quoted as saying:
. . . since arriving back from Micronesia I have realized that maybe it just doesn't get any better than that, after all my years of traveling, surfing and kiting, that place might just be the best place I have ever visited."
Strong words. The Best Odyssey, an operation centered around extreme water-sports adventures based off a 60-foot catamaran, visited Pohnpei in 2009 and peppered the internet with amazing photos and videos of kitesurfers ripping it up on Pohnpei's waves and at locations as far-flung as And Atoll. The photos made by adventure sports photographer Jody MacDonald, who documented Best Odyssey's exploits on Pohnpei, are stunning enough to make anyone want to try kiting (MacDonald's work has been published in National Geographic, Outside Magazine, Kitelife, The Kiteboarder, Kitesurf, Wind & Kite, Kiteboarding Magazine, and many other fine publications). Never the less, it should be noted that Pohnpei is not an ideal destination for kiteboarding novices. There are no shore-breaks. Kites have to be launched on the water from boats, often in tricky conditions.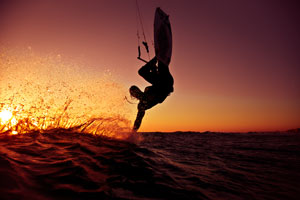 When to Visit
Pohnpei's position in relation to the annual northeasterly trade winds results in exciting conditions off and on throughout the year, but the primary times for kiting around the island happen from October through May (for northern reef breaks) and September through December (for eastern breaks). The western and southern reefs are sheltered by the island and don't get much in the way of wind.
Bringing a Kiteboard on the Airplane
Bringing a kiteboard to Pohnpei is relatively painless. If your kiteboard bag weighs less than 22.68 kg (50 lbs) and has total linear dimensions (length + width + height) of less than 157.5 cm (62 in), you won't get charged for over-weight/over-sized baggage, though you'll still have to pay an excess baggage fee (United only gives you one free piece of check-in luggage) which depends on your point of origin.
Anything larger or heavier than the specifications above will incur an over-weight/over-sized baggage fee of $100 each way. Maximum weight allowed is 45.3 kg (99.9 lbs). You can only bring one kiteboard per ticketed passenger. All your gear should be carefully packed and padded. There is no redress for equipment damaged in-flight. If the flight is extremely full, United has the right to send your kiteboard on a later flight.
Where to Kite Surf
All of the northern and northeastern barrier reef passages offer breaks that can be stellar for kiting. The most popular spot among kiteboarders is at "Center Pass". "Main Pass" (a.k.a. "Sokehs Pass") is also a good spot with a right-breaking wave and cross-shore winds perfect for the sport. The setup, however, is very technical and few kiteboarders are willing to tackle it. Palikir Pass (a.k.a. "P-Pass") is the surfing Mecca, but the winds there tend to be too strong most of the time to make for an ideal kiting destination. Other kiters have found success at Mwahnd Pass, and Alohkapw (a.k.a "Areu Pass"). Passes aren't the only places to kiteboard, however. The shallow sandy areas near Nahnningi Island and in the lagoon at And Atoll are also options. After all, you don't really need waves to have fun — just wind and water. Visit the Surfing page for detailed information about all of Pohnpei's major breaks.
Avoiding Aircraft
"Center Pass" and "Main Pass" lie within the flight path of aircraft taking off and landing at Pohnpei International Airport on Dekehtik. By law, kites must be out of the air during scheduled take-off and landing times. The FSM Division of Civil Aviation can provide you with schedule of all flights for a given week and advise you further.
+691.320.2865 | fax: +691.320.5853
FSM Division of Civil Aviation, P.O. Box PS-2, Pohnpei, FM 96941
Adventures >> Kiteboarding