In the early 2000s, the word began to get out and the world got its first glimpses of the gorgeous beast that is P-Pass. Since that time, Pohnpei Island has been visited by virtually every high-profile professional in the sport and is regularly lauded in surf publications around the world. P-Pass frequently ranks No. 5 in the world, just after Supertubes at South Africa's Jeffrey's Bay and Tahiti's ominous Wall of Heads. Despite the acclaim, the island remains an easy-going surf destination. The kinds of crowds that one sees in places like Hawaii just aren't found on Pohnpei. The people who do come are usually polite and apt to share, and P-Pass is so perfect when the right swells hit, that there are plenty of waves for all.
The set-up on Pohnpei is fairly simple. All of the surf spots are off-shore reef breaks; you really can't paddle to any of them. Most of the waves are generated near passages (P-Pass, Main Pass, Middle Pass, Lighthouse, Mwahnd, Areu, Nahpali, Nan Madol, and Pehleng), though there are some lesser-known breaks that form around sharp corners on the outside of the barrier reef. All breaks are shallow on the inside, requiring experience in order to avoid serious injury. Sharks are around, but they aren't much of an issue (the last time a surfer was bitten was in 1994 before anyone really knew about Pohnpei's waves).
When to Visit
If surfing is your primary reason for visiting Micronesia, then you'll want to plan your trip between mid-October and the end of March. The absolute peak of the season is January and February. There is surf, however, at other times of the year, but it's less predictable and it's often at the lesser-known sites, like Mwahnd, Areu, and Nahpali.
Bringing Surfboards on the Airplane

United Airlines allows passengers to bring up to four surfboards in a single board-bag with an over-sized baggage fee of $200 each way (+ the usual excess baggage fee, which depends on your point of origin). Maximum weight allowed is 45.3 kg (99.9 lbs). Maximum length is 292 cm (115 in). Skegs should be removed, if possible, or carefully padded. There is no redress for boards damaged in-flight. If the flight is extremely full, United has the right to send your boards on a later flight.
Where to Surf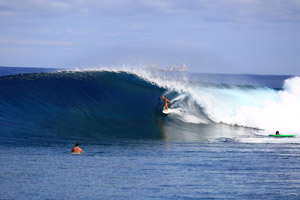 Located on the north corner of Palikir Passage (Kepidauen Palikir), "P-Pass" as surfers call this perfect right-hander, is the break that put Pohnpei on the map. It's been described as the "cleanest wave in the Pacific" and one that holds its shape at any size. The main season runs October through April with the best surf coinciding with the arrival of the winter trade winds in January and February (January 2015 saw some of the largest and cleanest waves since Pohnpei Surf Club was established). P-Pass isn't quite as shallow on the inside as Pohnpei's other breaks, but it's no place for beginners when it's cranking. Waves can get as big as 3 meters on the Hawaiian scale (6 meters on the Bascom scale). In optimal conditions, there are northerly swells with light NE-E winds propping up the barrels. Any tide will do. The pass is 122 meters wide. Magic Seaweed Break Profile & Predictions





Sokehs is probably the second most well-known break on Pohnpei, but it gets surfed less than Middle Pass and Lighthouse. It's often called "Main Pass" because it's at the east corner of the huge channel through which ships sail when heading for the commercial harbor. Like P-Pass, the wave is a solid right-hander. It might not be quite as clean as Palikir, but it's often bigger, more powerful, and more challenging. Allois Malfitani at Pohnpei Surf Club described it as "Sunset Beach on a 10-foot day." A northerly swell, light trade winds, and high tides are optimal. Conditions are extremely shallow on the inside. This wave works best with shorter boards–6′ to 6'4″.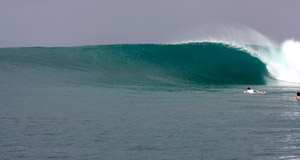 Pohnpei Surf Club owner, Allois Malfitani, described Pehleng as his favorite spot to surf — when it's doing its thing. Because this right-hander is situated far down on the west side of Pohnpei, where the island blocks the trade winds and any run-of-the-mill swells, it doesn't get awesome all that often (maybe every other year). Pehleng goes off, however, when gigantic northerly swells hit the island and wrap around the west side, producing waves on the north corner of 164 meter-wide Pehleng Passage (Kepidauen Pehleng). If P-Pass is massive, then there's a slim chance Pehleng will be lit up, too. The only way you'll ever score this wave is by sticking with the local surf operators, who know the breaks like their own bedrooms and can make educated guesses based on the weather and swell forecasts.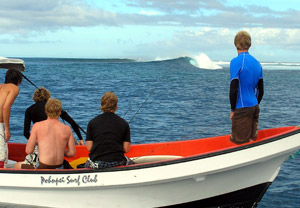 Middle Pass or Center Pass is the closest break to town, located 4 km northwest of Kolonia, and generates both lefts and rights on the corners of the small 86 meter-wide channel located between Sokehs and Lighthouse. It's sometimes called "Easy Pass" because the waves here are smaller and tamer than the neighboring breaks, but it is extremely shallow. It's as good with a bodyboard or longboard as with a short stick. Middle Pass is best with NW to NE swells and southerly to southwesterly winds.




The Lighthouse break is a right-hander located around the northeast corner of massive 420 meter-wide passage not far from Pohnpei's only concrete lighthouse. Optimal conditions are W to N swells with light southerly winds and mid to high tides.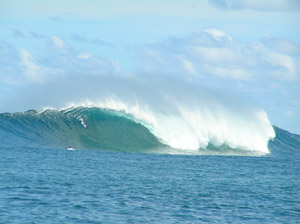 Mwahnd is beautiful for a lot of reasons: the relatively small 121 meter-wide passage (Kepidauen Mwahnd) can generate both rights and lefts on the corners and even waves that seem to break in both directions on a single barrel; it always has fewer people in the line-up than the much more famous breaks at P-Pass and Main Pass; and you can always go swim with manta rays at Manta Road (only 5 minutes away) if the waves aren't shaping up just right. Mwahnd is more exposed to winds than the northwest passes, so it tends to be a little sloppier than P-Pass, but that doesn't mean it isn't worth it. The right is best with the typical N-NE swell, while the sling-shot left likes a NW swell. Both are better with no winds or light southerly winds. When it happens, it's a special moment. Occasionally, this spot can get good surf during the off-season when P-Pass is as flat as a pancake. The optimal board size for Mwahnd ranges from about 6′ to 6'9″.
Entering the MPA requires a permit. Visit our MPA page for details.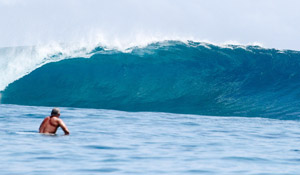 Areu is a left-hand pass break on the east side of the island at Kepidauen Alohkapw that sometimes turns out beauties like the one pictured here. East side spots like this usually work out only if there's little or no wind. The wave forms on the northeast corner of the pass and likes N to E swells. Get the inside scoop from your surf guides at Pohnpei Surf Club.




This is one of those elusive spots, where good waves only line up on very rare occasions. The right-hander is situated north of Nahpali Island on the north corner of the widest reef pass on Pohnpei (called Kepidauen Deleur). Nahpali's downfall is how exposed it is to winds. It does best with light easterly or southerly winds. There are significant rip-tides and (allegedly) a lot of sharks in the area to keep one's mind occupied. Breath-taking photos in the possession of Pohnpei Surf Club, however, are proof that Nahpali can be stunning when the conditions are right. Magic Seaweed Break Profile & Predictions



This right, a bit further south from Nahpali, opens up in front of the megalithic ruins of Nan Madol toward the south corner of Kepidauen Nahkapw (325 meters wide). It's a spot that's hard to predict and never produces anything on par with the rest of the waves around the island, but who can argue with the opportunity to surf in view of a prehistoric city like this? Not only that, but oral history states that an even older stone civilization was once found where the deep trench of Pahn Nahkapw is now. Presumably, that city currently rests on the bottom at 65 meters–a short distance from where one would paddle out. This break isn't perfect, but could a surf spot be any more mysterious? We think not.
Magic Seaweed Break Profile & Predictions

Down South


Most of the waves down south are located at sharp bends along the barrier reef or at small passes and get sexy with S to SE swells. Areas to explore include the barrier reefs beyond Penieu and Laiap islands. But there are plenty of other breaks down there that we've promised to keep secret. Only Pohnpei Surf Club knows all the sweet spots and when to check them out.


This right-hander is off the southeast corner of Nahlap Island and is the only surf spot that you can actually paddle out to (from Nahlap Island, not from Pohnpei). The wave is generally on the smaller side and a good place for beginners. It's best with a SE swell and no wind (or light northerly winds), which means you can snag this one from mid-summer to mid-fall when the famous spots are stone-dead.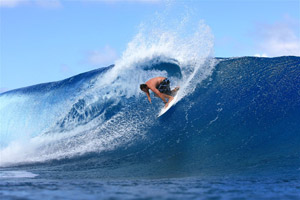 You can also veg-out on Nahlap, a small locally-run camping resort. Magic Seaweed Break Profile & Predictions
Who would have thought that Pakin Atoll had surf? It does, but it's tricky to know when and where. The atoll offers extremely technical lefts and rights for the ultra-experienced only. The reef here is super shallow (we're talking mere inches) and the waves can be pretty darn big on a good day, as the photo here shows. Only Pohnpei Surf Club can tell you more.
STORM from Kaius Potter on Vimeo.
ACKNOWLEDGMENTS
We couldn't have assembled the information on this page without the help and experience of Allois Malfitani at Pohnpei Surf Club (who also provided all of the photos shown here) and Wilbur Walter of Nihco Surf. Photos by Pohnpei Surf Club, Swilly, Kotch, and Shields.